Fukushima bosses cleared over nuclear disaster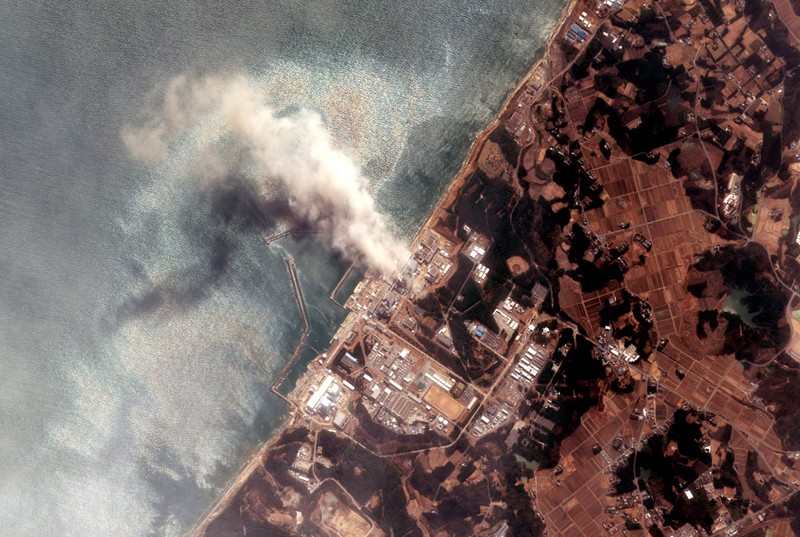 A Tokyo court has cleared three power-company executives of criminal negligence relating to the Fukushima nuclear disaster.
The 19 September ruling acquitted Tsunehisa Katsumata, Sakae Muto and Ichiro Takekuro, formerly of the Tokyo Electric Power Company (TEPCO), which operated the Fukushima Daiichi nuclear power plant. Three of the plant's six reactors melted down after the magnitude-9 Tohoku earthquake and subsequent tsunami on 11 March 2011. The disaster led to the evacuation of roughly 150,000 people in the worst nuclear accident since the 1986 Chernobyl disaster.
Prosecutors had accused Katsumata, TEPCO's former chairman, and former vice-presidents Muto and Takekuro of failing to act on information that showed the plant was at risk, and of causing the deaths of 44 people in hospital who were forced to evacuate.
The court's ruling, according to the Associated Press, stated that it was unrealistic for the company's leaders to prepare for all tsunami scenarios, and that the TEPCO executives' actions had been in line with government safety guidelines.
Following the verdict, TEPCO apologized in a statement for the accident and its impact on the region. But the company declined to comment on the outcome of the trial.
Preventive measures
During the trial, media reported that prosecutors referred to an internal TEPCO report, written three years before the quake, which showed that the seaside plant could be struck by a tsunami more than 15 metres high. The reactors were 10 metres above sea level, the same height as the plant's seawall. After the Tohoku quake — Japan's strongest on record — tsunami waves as high as 14 metres flooded the plant and knocked out emergency power generators, leading to the reactor meltdowns.
Prosecutors alleged that the three executives had approved, but then postponed, preventive measures suggested in the report, including the construction of a new seawall.
During the trial, media also reported that the executives' lawyers argued that the report's 15-metre-high tsunami estimate was preliminary and that even the suggested seawall — recommended for the southern side of the plant — would not have prevented the accident, as the tsunami waves came from the east.
Government prosecutors had originally declined to bring charges against the three, but were overruled by a citizen judiciary panel, a rare occurrence in Japanese legal proceedings. The prosecution team — consisting of lawyers appointed by the court — were seeking five-year prison terms for the three men.
According to several media reports, Hiroyuki Kawai, a lawyer who represents more than 5,700 Fukushima residents who collectively filed the complaint against the executives, said before the ruling that a lengthy legal battle was likely because the losing side would appeal
The case was the only criminal proceeding taken in the aftermath of the quake, but TEPCO still faces civil litigation. Multiple court rulings in class-action lawsuits have ruled that the Japanese government and TEPCO failed to take preventive measures and have awarded millions of dollars in damages to local residents
Source: Nature
آموزش زبان انگلیسی تخصص ماست
Dr. Monsefiyeh Ielts House

TabrizEnglishClub@
www.TabrizEnglishClub.ir