US and Canada have lost three billion birds since 1970
More than one in four birds have been lost across diverse groups and habitats, in what researchers describe as a 'wake-up call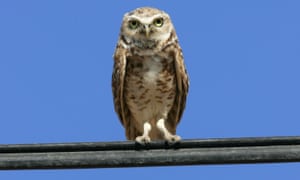 The US and Canada have lost more than one in four birds – a total of three billion – since 1970, culminating in what scientists who published a new study are calling a "widespread ecological crisis".
Researchers observed a 29% decline in bird populations across diverse groups and habitats – from songbirds such as meadowlarks to long-distance migratory birds such as swallows and backyard birds like sparrows.
"Multiple, independent lines of evidence show a massive reduction in the abundance of birds," said Ken Rosenberg, the study's lead author and a senior scientist at the Cornell Lab of Ornithology and American Bird Conservancy
Co-author Adam Smith from Environment and Climate Change Canada called the findings a "wake-up call
The population losses are consistent with what scientists have counted among insects and amphibians
The study, published today in the journal Science, did not analyze the reason for the drop. But around the world, birds are thought to be dying more and having less success breeding largely because their habitats are being damaged and destroyed by agriculture and urbanization.
Researchers calculated the declines with 10 years of information on migratory birds from weather radar stations and 50 years of data from the ground. Sources include citizen science from the United States Geological Survey, the Canadian Wildlife Service, the Audubon Christmas Bird Count and Manomet's International Shorebird Survey.
…As the crisis escalates
In our natural world, we refuse to turn away from the climate catastrophe and species extinction. For The Guardian, reporting on the environment is a priority. We give reporting on climate, nature and pollution the prominence it deserves, stories which often go unreported by others in the media. At this pivotal time for our species and our planet, we are determined to inform readers about threats, consequences and solutions based on scientific facts, not political prejudice or business interests
More people are reading and supporting The Guardian's independent, investigative journalism than ever before. And unlike many news organisations, we have chosen an approach that allows us to keep our journalism accessible to all, regardless of where they live or what they can afford. But we need your ongoing support to keep working as we do
The Guardian will engage with the most critical issues of our time – from the escalating climate catastrophe to widespread inequality to the influence of big tech on our lives. At a time when factual information is a necessity, we believe that each of us, around the world, deserves access to accurate reporting with integrity at its heart
Our editorial independence means we set our own agenda and voice our own opinions. Guardian journalism is free from commercial and political bias and not influenced by billionaire owners or shareholders. This means we can give a voice to those less heard, explore where others turn away, and rigorously challenge those in power
We need your support to keep delivering quality journalism that's open and independent. Every reader contribution, big or small, is so valuable
Source: The Guardian
آموزش زبان انگلیسی تخصص ماست
Dr. Monsefiyeh IELTS HOUSE

TabrizEnglishClub@
www.TabrizEnglishClub.ir